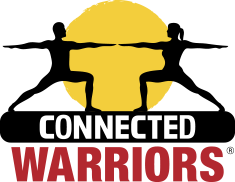 We had the pleasure of having Judy Weaver Co Founder and Director of Connected Warriors. The Connected Warriors mission is to empower Servicemembers, Veterans and their Families worldwide through Trauma-Conscious Yoga.
Judy Weaver, assisted by and Ralph Iovino, began a series of free local classes in south Florida. Based on a steady demand for more classes in more locations, Connected Warriors established its 501(c)(3) status and began to expand.
Connected Warriors continues to grow based on contributions and volunteerism and offers evidence based Trauma-Conscious yoga classes, programs and teacher training based on the latest scientific and psychological research in communities around the world.
They can be reached by phone at (954) 278-3764 or on the Connected Warriors website here. Listen to the program here: